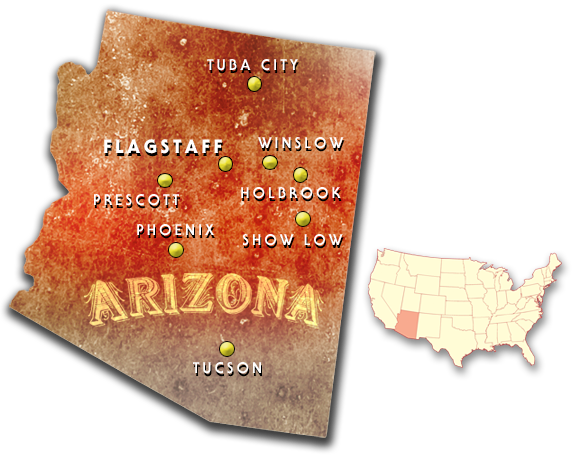 Driving: Interstates 40 and 17 are major crossroads for Flagstaff, providing easy entry from the south, east and west. Highway 89 links northern states, and Highway 180 connects Flagstaff and Grand Canyon National Park, 81 miles to the northwest.
Flying: Flagstaff Pulliam Airport is about six miles from downtown Flagstaff and has daily service to Sky Harbor International Airport in Phoenix. The airport offers a daily cafe with a full bar, a notary service, Internet access and 400 free passenger parking spaces. Take Exit 337 off of Interstate 17. Turn east onto W. John W. Powell Blvd. Turn right at S. Pulliam Drive. 928 556-1234, ext. 10.
By Rail: Flagstaff's historic downtown train station at 1 East Route 66 is fully operational with daily Amtrak arrivals and departures. It is also home to the Flagstaff Visitor Center, where you can obtain free information on local attractions, events, and accommodations. 800-872-7245.
Driving Distances and Times from Flagstaff, Arizona:

| | |
| --- | --- |
| Albuquerque, NM | 322 mi (about 5 hours 11 mins) |
| Chicago, IL | 1,660 mi (about 26 hours) |
| Dallas, TX | 971 mi (about 15 hours 55 mins) |
| Denver, CO | 677 mi (about 11 hours 47 mins) |
| El Paso, TX | 475 mi (about 8 hours 43 mins) |
| Jerome, AZ | 59.1 mi (about 1 hour 23 mins) |
| Las Vegas, NV | 253 mi (about 4 hours 15 mins) |
| Laughlin, NV | 181 mi (about 3 hours 3 mins) |
| Los Angeles, CA | 467 mi (about 7 hours 22 mins) |
| Phoenix, AZ | 147 mi (about 2 hours 28 mins) |
| Portland, OR | 1,277 mi (about 21 hours 13 mins) |
| Prescott, AZ | 96.7 mi (about 1 hour 45 mins) |
| Salt Lake City, UT | 514 mi (about 9 hours 1 min) |
| San Francisco, CA | 767 mi (about 12 hours 27 mins) |
| Seattle, WA | 1,351 mi (about 22 hours 17 mins) |
| Sedona, AZ | 31.0 mi (about 42 mins) |
| Tucson, AZ | 262 mi (about 4 hours 24 mins) |
| Tulsa, OK | 970 mi (about 15 hours 27 mins |
| Williams, AZ | 37.7 mi (about 41 mins) |