Flagstaff, Arizona's 7,000 foot elevation, relatively low humidity and clean, clear air produce a moderate climate with four distinct seasons. Despite being less than 150 miles north of Phoenix, Flagstaff's average temperatures are approximately 25 degrees cooler due to its higher elevation.
Spring, summer and fall are ideal for outdoor adventures including hiking, biking, camping, fishing and golfing. Winter brings perfect snow-skiing, cross-country skiing and snow-sledding opportunities.
Overall, the city enjoys an average of 283 days without precipitation each year, and the climate is officially classified as "semi-arid." Still, Flagstaff is the highest city in Arizona and receives an average annual snowfall of 100.3 inches, placing it among the snowiest incorporated cities in the United States.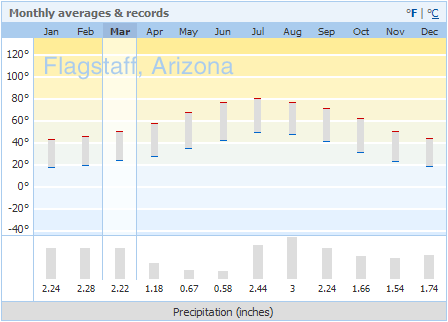 Spring: April through May
There is a small chance of snow in April, but mostly prepare for every living plant to burst into bloom. Average high temperatures are in the 50s and high 60s and lows are in the 30s — still pretty chilly.
Pack light layers like long pants, long-sleeved t-shirts and light sweaters and jackets. Closed-toe shoes are preferable for walking around town as well as hiking, biking and other outdoor recreation.
Summer: June through September
Day time high temperatures will run from the mid 70s during June to the high 80s and sometimes low 90s during July and August. Nightly low temperatures will run between 40 and 50 degrees F. Afternoon thunderstorms and rain showers can be heaviest during Arizona's "Monsoon" season in August and early September.
Bring several warm-weather tops and shirts, shorts and light footwear for strolling around town. Closed-toe shoes or boots are best for mountain biking and hiking. Carry a lightweight jacket or cozy sweater for the evenings, trekking to the higher elevations and at the Grand Canyon.
Fall: October through November
Normal high temperatures are perfect in the 50s to mid 60s. Evenings are crisp and cool in the high 20s and low 30s.
Bring a number of lightweight layers consisting of shorts and pants, short and long-sleeved tops along with a medium-weight jacket or sweater. Heavier coats and jackets are recommended outdoors at night. Shoes or boots are best for recreational activities.
Winter: December through March
Flagstaff is transformed into a winter wonderland. Expect high temperatures in the 40s, lows in the teens and lots of snow.
Pack a hat, gloves, boots and warm coat. In order to better manage changes in temperature, a flexible assortment of easy-to-layer clothing is advised when switching from the great outdoors to toasty interiors.